The TV show Maude needs to be rebooted – and the most important change would not even be the dialog or the clothing – replace the alcohol bar with a Juice, Smoothie and Wheatgrass station.
Now, the Creative Process is this:A British TV show Becomes an American TV show, but tarted up and dumbed down. 
Till Death Us Do Part is a British television sitcom that aired on BBC1 from 1965 to 1975. … and is known to the United States as the show that inspired All in the Family. …. The master copy had been wiped, however a home videorecording is …
All In The Family famously featured the Toilet Flushing Sound Effect and was the peak of the laugh track sitcoms.
The first Black man kissing White man on tv too, Elvis pal: Sammy Davis Jr plants one on Archie.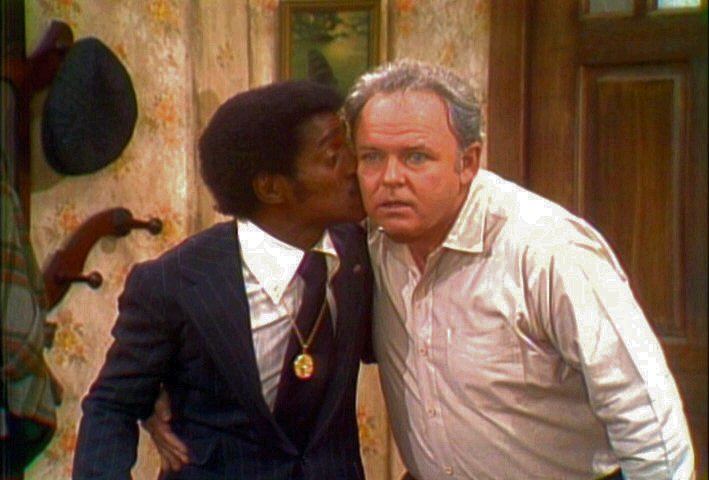 It spun off a short lived "Gloria" spin-off and Archie Bunker's Place, after Edith died – Jean Stapleton leaving the show for new roles that showed that that was not her regular.
Archie's next door neighbours, The Jeffersons, moved on up into their own series.
Featuring a mixed ethnic couple and a British neighbour for George.
Archie's cousin Maude became her own show and it kinda spun off Good Times.
Maude was a Liberal in that her maid used the front door.
1970s.. I guess the smoking cigarettes should be updated with weed.
Vivian and Maude: the femme and the butch
Meanwhile on Mary Tyler Moore: The Cougar
The Professional Homemaker and the Feminist Homemaker
that was the 1970s, then the 1990s
related on this blog