https://www.advocate.com/politics/2019/7/23/florida-candidate-says-lgbtq-equality-hurts-other-minorities
Florida Candidate Says LGBTQ Equality Hurts Other Minorities"Too hell with gay pride & their flag."www.advocate.com
Onno Singularity16 hours ago
Ahhhh, populist trickery!
yeah. creating a scapegoat and just changing where the line is drawn is not really how rights are supposed to work. so everyone or no one. eh
https://thehill.com/policy/international/454361-russian-lgbt-activist-stabbed-and-killed-after-being-listed-on-website
Russian LGBT activist stabbed and killed after being listed on 'Saw'-inspired website urging violence | TheHillA Russian LGBT activist was fatally stabbed earlier this week after being listed on a website that encourages people to "hunt" individuals who advocate for gay rights, according to reports.thehill.com
https://abcnews.go.com/International/wireStory/wing-polish-magazine-slammed-anti-lgbt-stickers-64532489
Right-wing Polish magazine slammed for anti-LGBT stickers – ABC NewsGet breaking national and world news, broadcast video coverage, and exclusive interviews. Find the top news online at ABC news.abcnews.go.com
https://www.voanews.com/europe/slain-russian-lgbt-activist-reportedly-had-been-threatened
Slain Russian LGBT Activist Reportedly Had Been Threatened | Voice of America – EnglishRussian activists confirmed Tuesday that a woman found dead of stab wounds in Saint Petersburg earlier this week was a well-known human rights activist who had been threatened over her work for LGBT rights and opposition causes.
Yelena Grigoryeva, 41, was active with Russia's Alliance of Heterosexuals and LGBTQ for Equality and other activist causes, according to the Russian LGBT Network.
"An activist of democratic, anti-war and LGBT movements Yelena Grigoryeva was brutally murdered near her house," opposition campaigner Dinar Idrisov wrote on Facebook.Show Morewww.voanews.com
https://www.themoscowtimes.com/2019/07/24/she-was-not-afraid-to-tell-the-truth-russia-reacts-to-lgbt-activists-gruesome-killing-a66551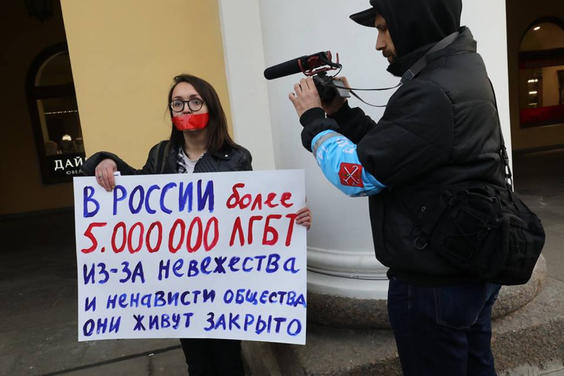 'She Was Not Afraid to Tell The Truth': Russia Reacts to LGBT Activist's Gruesome Killing – The Moscow TimesFellow activists lamented a system that failed to protect her, while anti-LGBT figures said her killing was justified.www.themoscowtimes.com
Now THIS is what I call an apology and appropriate action against racist pharmacists.
https://www.bet.com/news/national/2019/07/19/white-cvs-employee-calls-cops-on-black-woman-because-of-her-tone.html
White CVS Employee Calls Cops On Black Woman Because Of Her Tone | National | BETKendriana Washington is speaking out.www.bet.comShareEmoji
nina tryggvason4 hours ago
that the police do not charge the person who calls for misuse is part of the individual police bigotry and confusing themself for the law.
"If police believe that biased policing is produced only by individuals with explicit bias, such as racists, and if they reject that they themselves are racist and see few or none around them, they may well decide that their agency and profession are being unfairly criticized about this problem," Dr. Fridell wrote in her book, "Producing Bias-Free Policing: A Science Based Approach."
Confronting Implicit Bias in the New York Police Department – The New York TimesThe city has begun a $4.5 million training program to help all officers recognize and address underlying bias.www.nytimes.comShareEmoji
nina tryggvason4 hours ago
the problem is when all the individuals are eh.. that way blame can be spread across the group and no one deals with it systemically.
https://www.cnn.com/2019/07/23/politics/north-carolina-transgender-bathrooms-settlement/index.html
Transgender people in NC can use certain bathrooms matching gender identity after settlement – CNNPoliticsTransgender people in North Carolina may use certain public bathrooms as they relate to their gender identity, according to a settlement approved by a federal judge.www.cnn.com
https://www.buzzfeednews.com/article/laurenstrapagiel/denali-berries-stuckey-black-trans-woman-killed
Denali Berries Stuckey, A Black Transgender Woman, Was Fatally Shot In South CarolinaDenali Berries Stuckey is the 12th black transgender woman to be killed in the US this year.www.buzzfeednews.com