no Trump does not.
a man known in the 1980s for Bad Hair, Bankruptcy and Bimbos.
From President B Movie to President Reality TV Host.
so. not only is the public aware of the trans ban in the military
but less likely to know about the end of protections for queer government employees.
they theocratic-ally took over the Supreme Court
and the republicans have never been okay never mind good on LGBTQ2 matters or women or minorities of all kinds of demographics.
with Roe vs Wade about to be overturned and the Civil Rights Act of 1964 next. we must not get lulled into thinking this is at all okay.
LEST WE FORGET is a reminder to not be a bystander because of the known and documented horrors of history.
https://www.washingtonexaminer.com/opinion/trump-actually-has-a-decent-lgbt-record-except-on-one-thing
Trump actually has a decent LGBT record, except on one thingThere are about 15,000 transgender people serving in the military, but no one knows how many will be left a few months from now.www.washingtonexaminer.com
which is why the republicans called the Affordable Health Care Act that. eh. Libertarians, because Republican wasn't selfish enough too. That is what Ross Perot caused when Nader sidelined Gore and Bush was in office and the hanging chads were replaced by republican party backing companies that designed the voting machines now.
in this video. I have a copy of Gary Kinsman's Canada War on Queers about the Canada Purge part 1.
meanwhile in Canada, eh
Trudeau's apology to LGBTQ community not good enough, says author of book that detailed surveillance – iPolitics
https://www.straight.com/article-298209/vancouver/book-takes-gay-issues-government
Gary Kinsman's book Canadian War on Queers takes on gay issues in government | Georgia Straight Vancouver's News & Entertainment WeeklyAfter 17 years of research, a gay sociology professor at Laurentian University has published a book he hopes will awaken Canadians to decades-long "Canadian state" discrimination against gays and lesbians in the name of national security.www.straight.com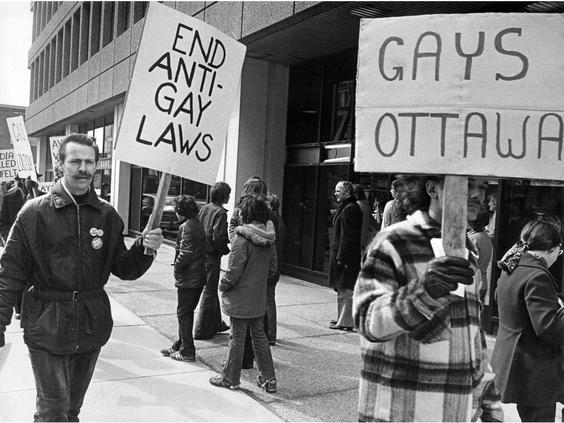 Kinsman: WinterPride theme perpetuates 1969 decriminalization myth | Ottawa CitizenAs a gay activist and a founder of the Lesbian and Gay Pride Day Committee in Toronto in 1981, I welcome the fact that Ottawa's Capital Pride is extending its activities into WinterPride this year.ottawacitizen.com
https://nowtoronto.com/news/canada-s-secret-war-on-queers-in-the-military/
Canada's war on queers in the military – NOW MagazineTwo decades after a campaign to drum gay persons out of the forces was exposed, the victims have yet to receive an official apology nowtoronto.com
canada content government employees
https://www.newswire.ca/news-releases/deadline-for-the-lgbt-purge-claims-is-april-25th-859210924.html
Deadline for the LGBT Purge claims is April 25thOTTAWA, April 16, 2019 /CNW/ – The deadline for LGBT Purge members to file for compensation is April 25, 2019. If individuals do not file by April 25, they…www.newswire.ca
meanwhile out in society eh
we need queer role models not hets who want cred or oscars
Andrew Garfield Says 'I Understand The Complaint' About Straight Actors Taking LGBTQ Roles | ETCanada.comAndrew Garfield received acclaim for his performance as a gay man diagnosed with AIDS in the revival of the play Angels in America, but there was some criticism, too. RELATED: Andrew Garfield Thanks LGBTQ Community, Wins First Tony Award For 'Angels In America' Speaking to The Independent, the 35-year-old actor responded to critics who felt a…etcanada.com
does anyone see the diversity problem? https://www.hospitalitynet.org/news/4092915.html
Q&A: Diversity Leader Randy Meck on LGBTQ Equality at HiltonHilton is proud to be a Best Place to Work for LGBTQ Equality, having been recognized by the Human Rights Campaign with a perfect score on the Corporate Equality Index for the sixth consecutive year. Reflecting on this honor, we spoke with Hilton's LGBTQ & Friends Team Member Resource Group (TMRG) co-chair, Randy Meck.www.hospitalitynet.org
https://www.dailymail.co.uk/news/article-6927239/Chinese-lesbians-post-selfies-having-mouths-taped-shut-protest-against-censors.html
Chinese lesbians post selfies of them having their mouths taped shut to protest against censors | Daily Mail OnlineBanned topic 'Les' had gathered 460 million views when it disappeared from China's Twitter-style Weibo Friday night. It prompts Chinese lesbians to stage a protest under hashtag #IAmLes#.www.dailymail.co.uk
https://www.inkstonenews.com/society/chinas-weibo-reverses-lesbian-ban-amid-protests/article/3006393
'I am les': Chinese social media giant reverses ban on lesbian content amid uproar – InkstoneChina's online LGBT community has won a victory against China's Twitter-like Weibo over its recent silencing of lesbian and bisexual women.
…www.inkstonenews.com