Ambrose To Trudeau: You Heard Malala, Now Step Up For Girls' Education
Rona Ambrose was the Minister of the Status of Women
she oversaw the removal of "equality" from the mandate
and the department was reduced from 17 offices across the country with fewer than 100 employee to 5 offices.
then de-funded all of the women's community centres – causing a huge impact for women to access health and support information for themselves and their families.
then, tried to re-open the abortion debate.
Sensitivity Classes will not solve the Judge Problem, because the real problem is conservatives
causing problems and then complaining about not being in power
does not help anyone, and perhaps Canada won't have the 48% Brexit and 47% American apathy rates
anyone who's had a decent education has learned history enough to stop it from repeating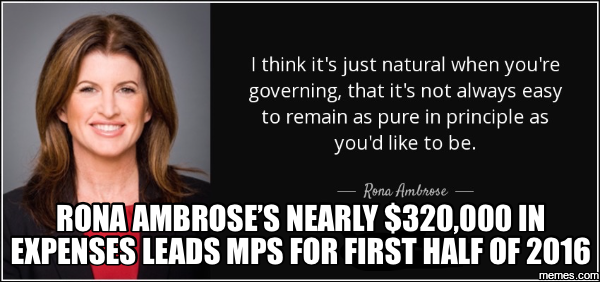 ladies against women are not feminists. these are the Kim Campell place holders
Rona Ambrose was in power for three terms and now she wants Prime Minister Justin Trudeau to do what she didn't do?
When Rona Ambrose was at university she volunteered at a rape-crisis centre. But an opportunity to use that experience to help ensure that victims are treated more fairly in the courts didn't come during her decade as a minister in the Harper government. Ambrose's sex assault bill her parting gift to Canadians: Editorial | Toronto Star
thestar.com
she was the Minister of the Status of Women who removed "equality" from it's mandate and oversaw a reduction from 17 offices to 5 and caused a massive de-funding of women's community centres and impacting Battered Women's Shelters. eventually causing the Winnipeg Women's Health collective to end after several decades of operation

and her finest moment for women: