A semi-successful outing with my Mom to Guildford Mall.
Where I had my worst ever Pantry experience.
I had 2 bites of food and sent the entire plate back.
The booth behind me had 2 small children who urged each other into a screeching contest and little to no attempt by the parents to manage their offspring.
The front desk clerk arguing that the menu item was new, when I have been ordering it for several years and know when it's not made properly didn't help and her utter unwillingness to deal with screaming children; I offered her a choice of dealing with one problem customer or two in a screaming match with each other.
Competence is a rare quality indeed.
At a kitchen store, I found a gift for my niece and I went to the rear of the store to pay. There were 2 clerks and each one had a customer. I assumed the clerk on the phone had an issue, so I waited behind the customer at the other clerk.
A Boomer Aged Man walked in and complained that there was no clerk to help him with his list.
A woman from another store, who was visiting the 2 clerks helped him – while explaining that she did not work there.
When it was my turn at the clerk, I looked at her Millennial Face and said "Don't let self entitled assholes ruin your day."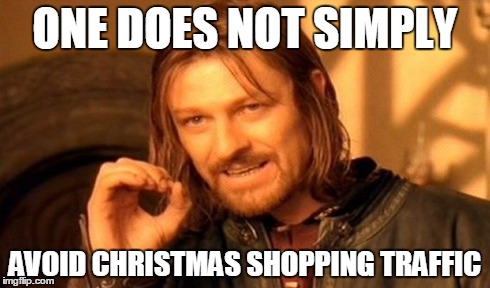 She giggled like the 12 year old that she appeared to me and the other clerk, closer to my age, nervously laughed at my bad mannered humour.
across the corridor to the HMV – were playing Boney M's christmas disco, and I picked up my Dad's gift and noticed that Red Dwarf had a season XI.
A soothing latte at the Nespresso booth helped – Banana Bread coffee. tasty, and seasonal shopping.
a couple ahead of me, the husband ordered a decaf for his wife.
I joked about caffeine free coffee being pointless like nicotine free cigarettes, she laughed and over-explained she was breast feeding. the information people offer to strangers, does anyone have a privacy concept anymore in the personal digital broadcast era?
Then, a Fruiticana for some produce, and the IGA for some sale grocery items.
I ended up getting a chicken burger at Church's and jalapeno poppers, funny that a melted cheese product came with a cheese dipping sauce. Which was really good on the burger.
almost 4 hours and I was able to get really sweet parking at all the stops.
more snow than we've had to deal with in a decade and more coming tonight.