In one of history's rare cases of hunter/gatherers out lasting Farmer's Greenland's Viking Era also had an unfortunate beginning:
Erik the Red had been exiled for 5 years as punishment for murder over a land dispute from Iceland – He sailed further away and tried to make himself king of a new colony Greenland.  
The Vikings who settled there, tried to be like Europeans – they farmed and had livestock. 
they didn't fish most of all. The people living there when the Vikings showed up for a while, continue to live there into the modern era. 
This is related to the Denmark claim on the arctic. 
Leif the Lucky, one of Erik's sons, blew off course and ended up in Canada. Where higher north, the vikings that settled there, bred into the local population. 
While southern settlements were abandoned as being too precarious in the endless wilderness with unknown numbers of skraelings.
Besides, Europe was closer and had finished goods and being a Viking was a seasonal job until the harvest. 
Climate Change was environmental – Cultural Change – assimilation or adaption, see also extinction
Archaeologists have a new answer to the mystery of Greenland's Norse, who thrived for …
archive.archaeology.org/online/features/greenland/
Some people call it the Farm under the Sand, others Greenland's Pompeii. Dating to the mid-fourteenth century, it was once the site of a Viking colony founded …
Jan 10, 2013 – Abandoned Colony in Greenland Archaeologists Find Clues to Viking Mystery. For years, researchers have puzzled over why Viking descendents abandoned Greenland in the late 15th century. … The marriage of the Icelander and the girl from Greenland was one of the last raucous festivals …
Dec 4, 2015 – A simple narrative of warm climates allowing for the colonization of Greenland, and cold climates driving the Norse away, may not hold up, new …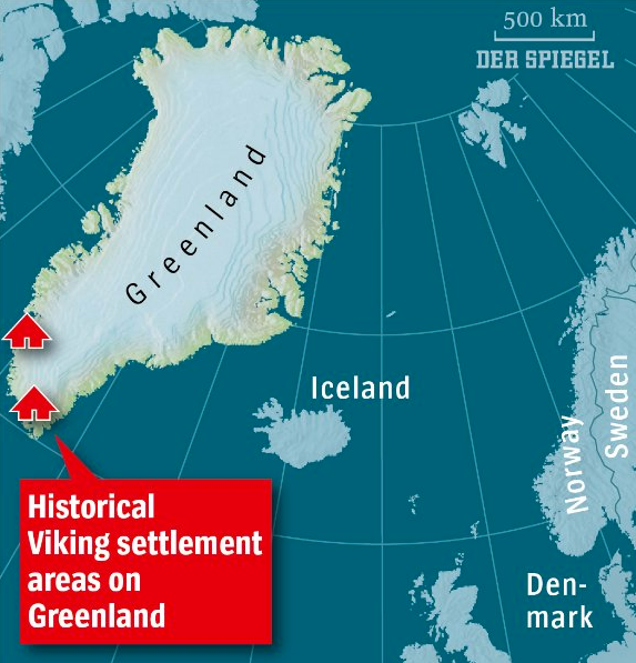 sciencenordic.com/greenland–vikings-outlived-climate-change-centuries
Apr 5, 2015 – In the middle of the 13th century the Vikings who had settled in Greenland encountered no less than ten years of harsh and cold winters and …
www2.sunysuffolk.edu/mandias/lia/vikings_during_mwp.html
During the years 800-1200, Iceland and Greenland were settled by the Vikings. These people, also known as the Norse, included Norwegians, Swedes, Danes, …
The Norse who settled in Newfoundland probably wore clothing similar to this outfit which was excavated in Herjolfsnes, southwestern Greenland. From Geoffrey …
ngm.nationalgeographic.com/2012/11/vikings-and-indians/pringle-text
Years earlier, while helping to excavate a Viking farmhouse in Greenland, she had … Weeks later an expert on Viking textiles informed her that the Canadian …
Roughly 1,000 years ago, the story goes, a Viking trader and adventurer named Thorfinn Karlsefni set off from the west coast of Greenland with three ships and a …